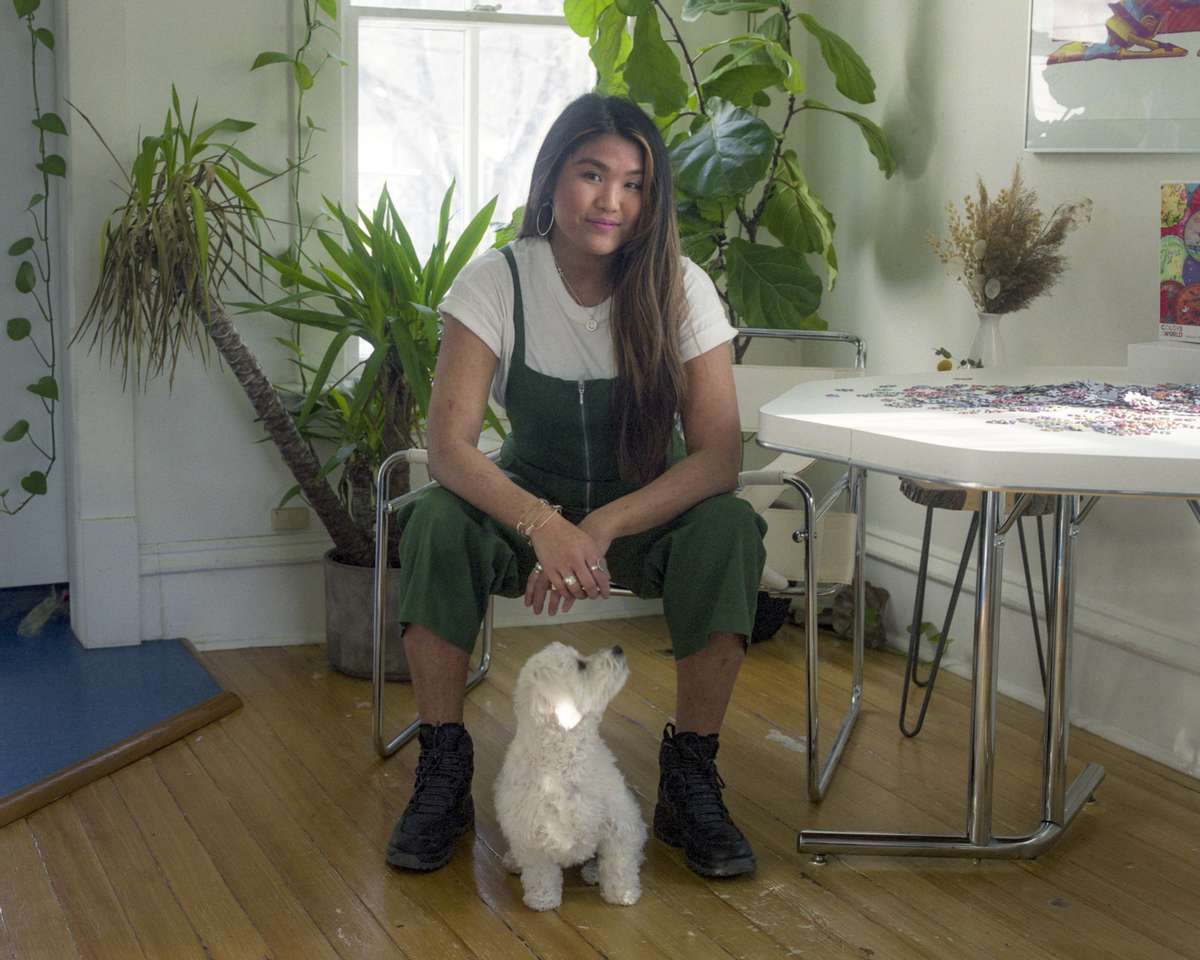 Mangie Chan is Winnipeg based Jewelry Designer, whose small batch line of wonder
Sunday Feel
does exactly what it's supposed to it's jewelry that makes you feel. So much of getting dressed and accessorized deals with feelings, those you want to accentuate, some you want to subdue and Sunday Feel has a piece for all the representations both literally with
smiley/frowny faces
and figuratively. We had a chance to interview Mangie after our friend
Matt Williams
took some amazing photos of her (and her sweet pooch Eevee) we hope you enjoy ....
mj: I feel like your name Sunday Feel is the best way to describe the overall vibe of the line, how did you come up with that name and what is your quintessential "sunday feel"?
sf: It's a vibe for sure! Quintessential sunday feel is that feeling you get when you are completely at ease, comfortable, happy, nothing else left to do in the day but enjoy. When coming up with the name, I definitely wanted something to capture a feeling, an essence of what my jewelry was all about. I knew I wanted the word 'feel' in the name because I've always loved the way the words looks. I also wanted it to be two words so I kind of just went thru a bunch of words till I found the right fit, Sunday always feels good to me and is my fave day of the week, and looks good as well.
mj: I love how you present your collections as numbered phases, how did you decide this approach and what is inspiring you for phase VIII?
sf: Thank you! The idea of phases just made a lot of sense to me and the way I create. Each phase is a different collection, some that are conceived together, some that are made of up various pieces that I have made over a period of time. The idea of a phase just made more sense, because each one represents a snapshot of my life, what I'm into at the time, what skill I've been learning and incorporating. If you see me in real life, my style is constantly changing and i can look very different depending on the day. The phases are really connected to me and my style, I have such a huge variety of influences and aesthetics that I'm into, which is totally reflected in my jewelry.
Phase VIII will be light, happy and carefree. I've been really into exploring memories and sentiment, so you will see some nostalgic, cheeky childhood things in there. An escape from our from our current dark landscape.
mj: What is your favorite aspect of being a designer and running your own business/what is the hardest aspect?
sf:
My fave part of being a designer is the designing part, getting to dream up/conceptualize/ play. It's so fun with jewelry because there are so many different types of techniques and materials you can apply, and it's really like making miniature sculptures. Doing photoshoots is also very fun, conceptualizing, playing dress up and then seeing the results satisfies me. Also Sunday has served as a way to meet a lot of interesting people, and to meet other creatives and being able to collaborate with has been really rewarding. The hardest part is definitely time management and feeling like I don't have enough time to do all the work I need to do, or keep my house looking cute, or enough time to spend with my friends and family… classic adult woes.
THANK YOU MANGIE !!
Shop:
Sunday Feel
Instagram:
@sundayfeel
🙂☹🙂☹🙂☹🙂☹🙂☹🙂☹🙂☹🙂☹🙂☹🙂☹🙂☹🙂☹🙂☹🙂☹🙂
Interviewer: natalie slater
Interviewee:
mangie chan
Photographs:
matt williams