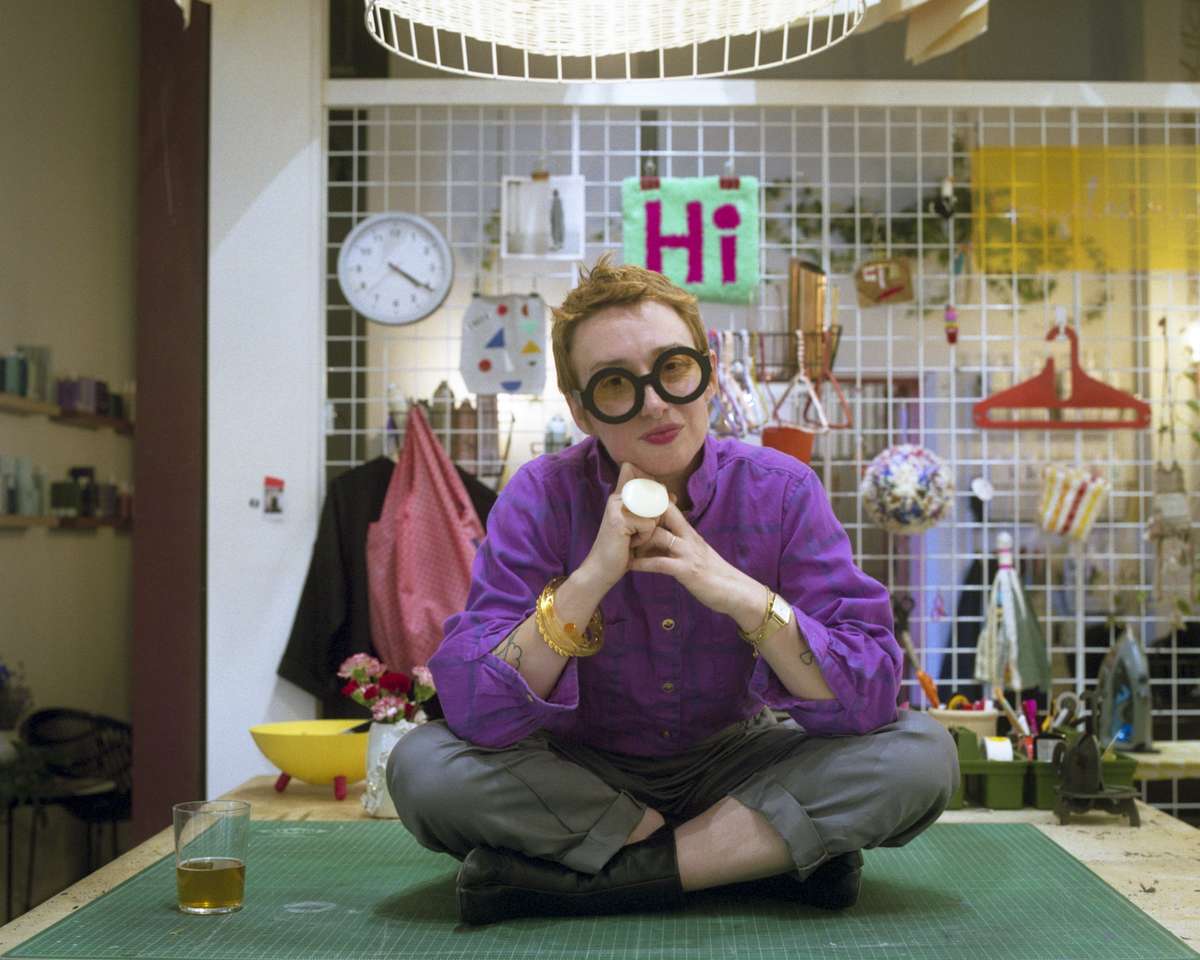 Tony Chestnut
is an inspiring clothing brand by Jill Sawatzky based in Winnipeg. We've loved Jill's designs for oh so long with their dramatic yet playful personalities poignantly captured in each seasons colors, fabrics, and choreographed photographs. Tony Chestnut is made to order, made for bodies, made for life in all its mess and glory. We're thrilled to have had a chance this winter to ask Jill some questions about life as a designer (pre-pandemic) and we hope you enjoy these shared insights as much as we do...
mj: where did the name tony chestnut come from? how would you describe the brand?

js: tony chestnut is the name of a children's song that i learned at summer camp when i was super young. it has actions, and will make more sense if you think of it in the context of "toe knee chest nut (head) nose eye love you..."
the brand is my big old stab at creating functional clothing that gains their "beauty" cred based on how they make the wearer feel. i want people wearing my clothes to feel "capable and comfortable and confident and creative". "beautiful" comes after that.

mj: your rag sweater line is wearable art at its recycled material finest! we read that you are expanding your foray into reused fabrics in 2020 what does this look like in your mind?

js: i will continue using knitting as a way to use up material scraps! this summer season i'm also using a method of colour blocking to integrate small fabric scraps into new garments.
on top of these ideas, i always have a few go-to garment styles/shapes that i make one-of-a-kind releases of, based on what kind of small scraps of fabric i can mix and match into a completed garment.
but, knitting. knitting is where it's at. i've even begun cutting old t-shirts into strips and knitting that shit together.


mj: you are doing such an amazing job representing where /how your clothes are being made with your candid Instagram and open studio 3 days a week, what are the most rewarding and most challenging aspects of being small designer being out there in this big world?

js: the most rewarding part of my job is being able to see the transformative properties that clothing holds. watching a person put on a garment, and having it change their posture or their attitude, or just the way they see themselves. it kills me.


i love having a space that's open to the public (as opposed to just having an online platform, or only being available in limited quantities at pop-ups) because it brings so many different types of people through the door... so often a person will come into the workshop super hesitantly and mention that they have seen my clothes on
instagram
or on others-- they are assured that the clothing "won't look good on them", but then they can try it on right there in that safe and chill space and have their own experience with the clothing. spoiler alert: people are usually really happily surprised to see how things look on their own bodies. we can have a conversation about colours and shapes and potential customization, and it's really thrilling for people to recognize that anything is possible when you're buying something straight from the hands that makes and designs it.
the hardest part of having a clothing line is the creative vulnerability and recognizing that you can't make everyone happy. it's my job, but it's also my heart and my brain, and criticism is really hard for me to take. i'm also really hard on myself about not meeting timelines and disappointing people's expectations for my "behind the scenes communication". it's a lot. my primary concern when things get busy is always MAKING, but this sometimes lets other parts of the business slide. i'm learning.
THANK YOU JILL!
Shop:
Tony Chestnut
Instagram:
@tonychestnutdesign